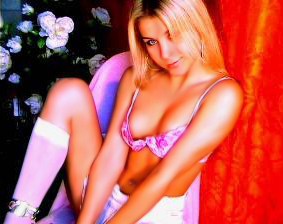 They say Angels are sweet, but I'm not so sure about this goodbabe.  This SweetAngel is better described with words like hot, sexy, horny, naughty, and delightful.  She might taste sweet, but I'm not sure that fits her attitude.  This angel is going to ask you to cum, cum, cum.
How many angels do you know who will hold up a bottle of baby oil and ask if you want to watch while she rubs her entire body with it?  This little angel can do miraculous things with a bottle of baby oil and her hands.  I was passionately lost staring at my screen while she rubbed baby oil over her breasts and stomach.  Her hands kept mauling her tiny breasts, pinching the nipples and the sliding down her stomach.  Each time her hands went to her stomach they went closer and closer to her pussy until her fingers finally found her clit.  This is when the real fireworks started.  The baby oil was being rubbed over her pussy, clit, and asshole making them slippery and shiny.  Soon her breasts were forgotten and SweetAngel's fingers were busy rapidly rubbing her clit with the other hand buried in her pussy.
Her fingers kept gliding between her pussy and her clit.  This naughty angel could not keep her butt on the bed as her eyes started glazing over in lust.  Her hips bucking up and down as she reached an orgasm.  Are all angels this hot and sexy?  This is one spicy, hot, goodbabe.